Basel Peace Office commemorated the inaugural International Day of Sport for Peace and Development on April 6 with a run along the Rhine River, Carton Blanc photo event at Three Countries Corner, Dreiländereck and discussion on the role sport can play to advance peace, conflict resolution, reconciliation, disarmament and development.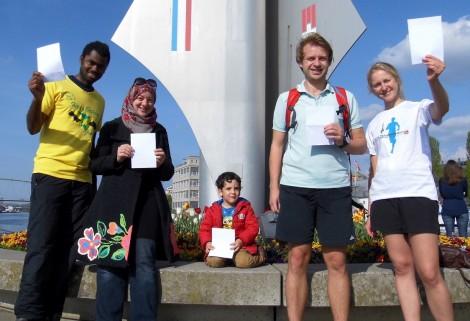 Basel Peace Office does a Canton Blanc action at the Peace Pole
The Three Countries Corner is the meeting place of France, Germany and Switzerland. Peace between these three countries is commemorated with a Peace Pole incorpoating flags of the three countries and a plaque gifted by Sri Chinmoy highlighting the principles of peace, cooperation, respect and love in inter-personal, community, national and international relationships.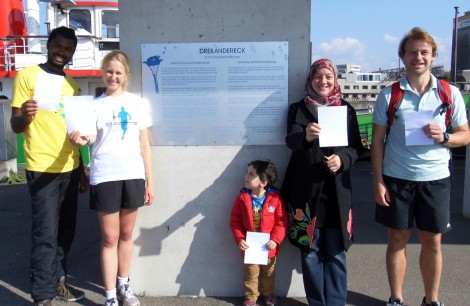 Basel Peace Office at the Peace Plaque at Three Countries Corner
The Canton Blanc (white card) signifies good sportsmanshhip, respect, fair play and peace (as compared to the red and orange cards in sport which represent foul play). "Carton Blanc" (White Card) started as a highly-acclaimed travelling photo exhibition by Maud Bernos which highlights the faces of those who are at the very heart of Peace and Sport's action and who are its tireless driving force: children.
The International Day of Sport for Peace and Development  was established by the United Nations at its General Assembly  in August 2013. This day will be celebrated each year by UN Member States and other partner organizations to honour the role that sport plays in society, whether by encouraging healthier lifestyles, making sport more widely accessible or using sport as a vehicle for peace, nonviolence, conflict resolution and development in areas made vulnerable by conflict, poverty and inequality.
I hope that the International Day will motivate people to do more to cultivate intrinsic sporting values such as fair play, teamwork and respect for opponents. These ideals are universal. Every successful society is built on them, and the more we instil respect for these ideals in ourselves, the better the world will be that we leave to our successors.
Novak Djokovic, World number two tennis player, Goodwill Ambassador for the UN Children's Fund and promoter of the International Day of Sport for Peace and Development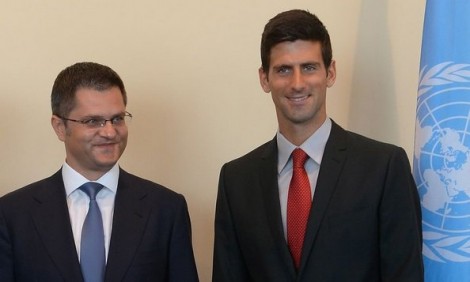 United Nation General Assembly President Vuk Jeremic and Novak Djokovic tennis player on the occasion of the UN establishing the International Day of Sport for Peace and Development
Sport can be a powerful handmaiden for peace and reconciliation. It can bring us closer through shared celebration of achievements of universal appeal and attraction. Ethnic, religious and economic divisions fall by the wayside, along with prejudice, fear and misunderstanding.
UN General Assembly President Vuk Jeremic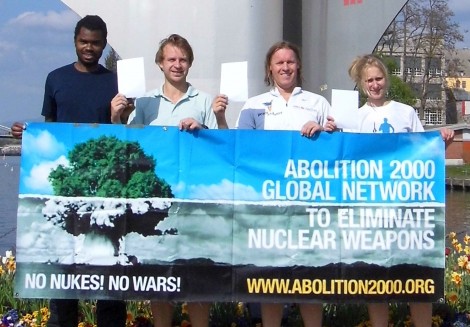 Basel Peace Office unfurl Abolition 2000 banner at the Three Countries Corner
Basel Peace Office used the occasion advance the global abolition of nuclear weapons and to promote Abolition 2000, the Global Network to Eliminate Nuclear Weapons.
Wargames are not sport, especially if they involve the threat or use of nuclear weapons. War is the dehumanisation of others to the degree that you can kill them. Nuclear war is not just the dehumanisation of others, but the desecration of all life itself. Sport can help us realise that those we would threaten to annihilate are just like us, and thus there is no justification for nuclear weapons or war.
Alyn Ware, Co-foudner of Abolition 2000 and Director of the Basel Peace Office
The April 6 event was part of the Basel Peace Office Peace and Sports program which has included the Basel Run for Peace, a two-day Sports and Games Workshop and a seminar on Youth, Sports and Peace: Building bridges in conflicts through Sport, faturing world record holding sprinter Wilson Kipteker.
Basel Peace Office will also be participating in the Peace Bike Ride in Kazakhstan in August 2014 and the Mt Kilimanjaro Climb for Nuclear Abolition in June 2015.